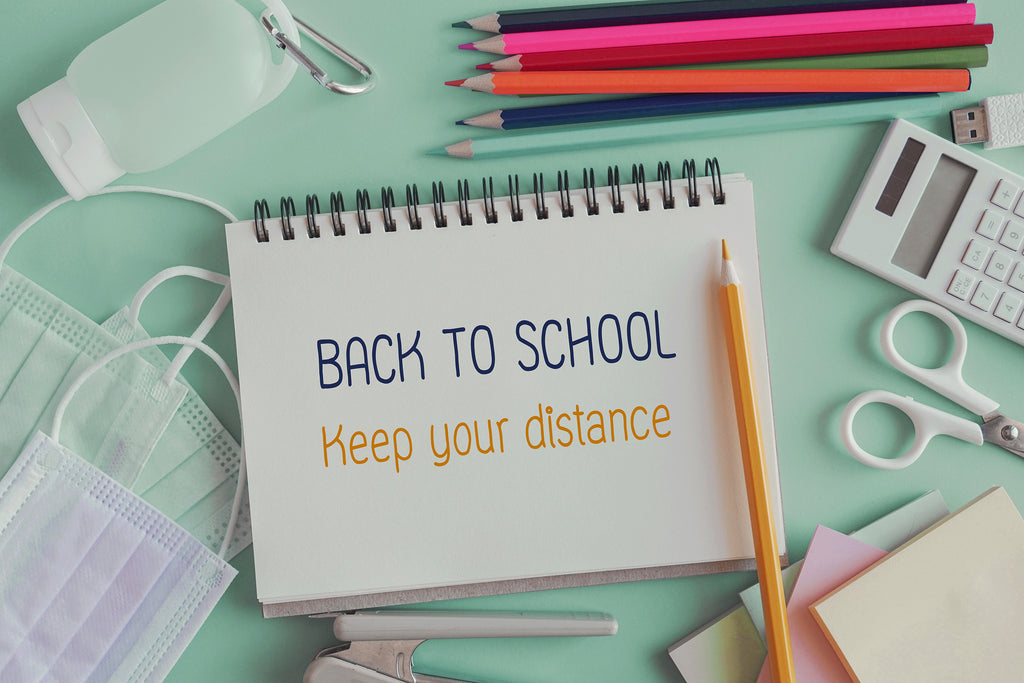 Back to regular school? How to keep your kids safe and healthy
As we try to navigate through the challenges of our day to day lives with COVID-19, going back to regular school has stirred a lot of controversy among parents, teachers and children alike.
Is the social interaction that children have at school, more important than staying safe? Is going back to school a good thing or not? Either way, if you have decided as a family that kids should go back to regular school classes, here are a few things to consider and prepare in advance:
1. Masks
According to the CDC, if your school is requiring or encouraging the use of masks, think about the following actions. Consider asking what steps your school will take to minimize the potential for students to be singled out or teased for wearing or not wearing a mask. Appropriate and consistent use of masks may be challenging for some children. Wearing masks should be a priority when it is difficult for students to stay 6 feet apart from each other (e.g., during carpool drop off or pick up, when entering the building or standing in line at school, or while on the bus).
Have multiple masks, so you can wash them daily and have back-ups ready. Choose masks that:
Fit snugly but comfortably against the side of the face
Completely cover the nose and mouth
Are secured with ties or ear loops
Include multiple layers of fabric
Allow for breathing without restriction
Can be washed and machine dried without damage or change to shape
Label your child's masks clearly in a permanent marker so that they are not confused with those of other children.
Practice with your child putting on and taking off masks without touching the cloth.
Explain the importance of wearing a mask and how it protects other people from getting sick.
Consider talking to your child about other people who may not be able to wear masks for medical reasons (e.g., asthma)
If you have a young child, help build their comfort wearing a mask and become comfortable seeing others in masks.
Praise your child for wearing a mask correctly.
Put a mask on stuffed animals.
Draw a mask on a favorite book character.
Show images of other children wearing masks.
2. Handwashing made fun
Handwashing is an easy, cheap, and effective way to prevent the spread of germs and keep kids and adults healthy. When your family is healthy, you don't have to worry about missing school, work, or other activities.

Help your child develop handwashing skills
Parents and caretakers play an important role in teaching children to wash their hands. Handwashing can become a lifelong healthy habit if you start teaching it at an early age. Teach kids the five easy steps for handwashing—wet, lather, scrub, rinse and dry—and the key times to wash hands, such as after using the bathroom or before eating. You can find ways to make it fun, like making up your own handwashing song or turning it into a game.

Give frequent reminders
Building handwashing skills takes time. At first, your child will need regular reminders of how and when to wash hands. It is especially important to remind children to wash their hands after using the bathroom, before eating, after touching pets, after playing outside, and after coughing, sneezing, or blowing their nose. But once handwashing becomes a habit and a regular part of your child's day, they will practice it throughout their lives.

Lead by example by washing your hands
Young children learn by imitating the behaviors of adults in their lives. When you make handwashing part of your routine, you're setting an example for your children to follow.
3. Sanitizers

Germs are everywhere! They can get onto hands and items we touch during daily activities and make us sick. Cleaning hands at key times with soap and water or hand sanitizer that contains at least 60% alcohol is one of the most important steps you can take to avoid getting sick and spreading germs to those around you.

There are important differences between washing hands with soap and water and using hand sanitizer. Soap and water work to remove all types of germs from hands, while sanitizer acts by killing certain germs on the skin. Although alcohol-based hand sanitizers can quickly reduce the number of germs in many situations, they should be used in the right situations. Soap and water are more effective than hand sanitizers at removing certain kinds of germs like norovirus, Cryptosporidium, and Clostridioides difficile, as well as chemicals.

Hand sanitizers also may not remove harmful chemicals, such as pesticides and heavy metals like lead.Handwashing reduces the amounts of all types of germs, pesticides, and metals on hands. Knowing when to clean your hands and which method to use will give you the best chance of preventing sickness.


Conclusion
Schools are an important part of the infrastructure of our communities, as they provide safe, supportive learning environments for students, employ teachers and other staff, and enable parents, guardians, and caregivers to work. Schools also provide critical services that help meet the needs of children and families, especially those who are disadvantaged, through supporting the development of social and emotional skills, creating a safe environment for learning, identifying and addressing neglect and abuse, fulfilling nutritional needs, and facilitating physical activity.
School closure disrupts the delivery of in-person instruction and critical services to children and families, which has negative individual and societal ramifications. The best available evidence from countries that have opened schools indicates that COVID-19 poses low risks to school-aged children, at least in areas with low community transmission, and suggests that children are unlikely to be major drivers of the spread of the virus. Reopening schools creates opportunity to invest in the education, well-being, and future of one of America's greatest assets—our children—while taking every precaution to protect students, teachers, staff and all their families.